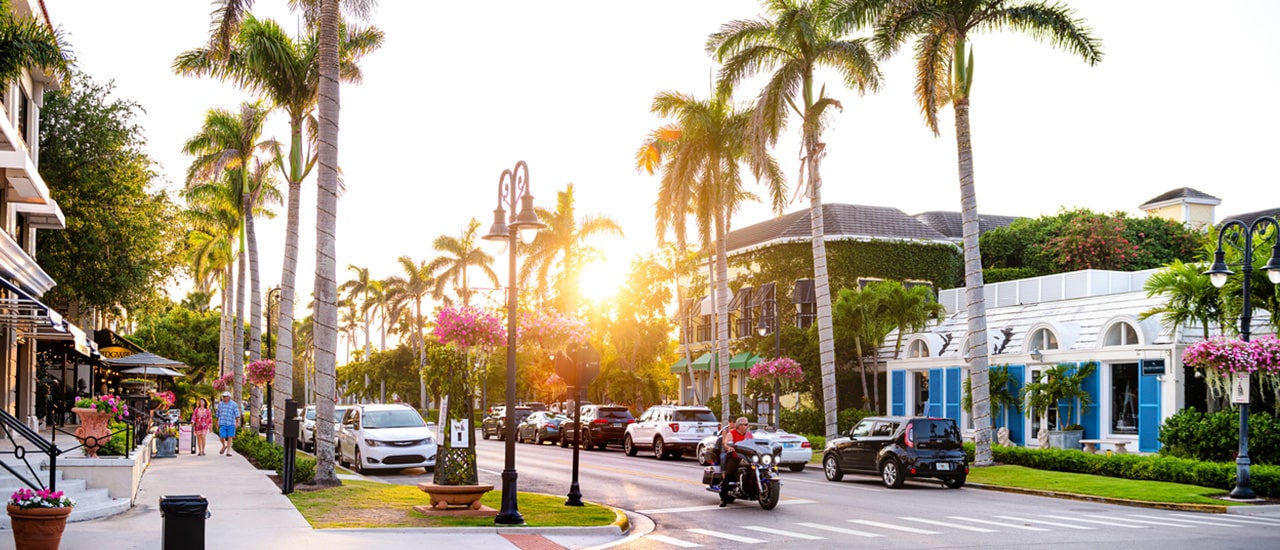 Look How Far Southwest Florida Has Come with New Condo Innovations
August 11, 2022 | Read Time: 2 minutes
From a tropical climate and plenty of sunshine to diverse ecosystems and wildlife, Southwest Florida has become a prominent hotspot for Florida luxury homes. Recently ranked as the nation's fourth fastest-growing city, the greater Naples area has attracted luxury homebuyers seeking a vibrant coastal lifestyle. As many continue to flock to this tropical locale, some of the world's top architects are ushering in a new era of residential living. Here's a closer look at how Southwest Florida continues to lead the way with innovative amenities and design:
Demand Continues for Florida Coastal Living
The real estate market in Florida has experienced unprecedented growth over the past 18 months. According to The Wall Street Journal, the remote work revolution, a favorable tax environment, and Florida's year-round sunshine has fueled this growth, leading to a rise in demand throughout the state. Luxury homebuyers in particular are searching for vibrant lifestyles and private retreats, and they've found it in Southwest Florida.
Innovations in Condominium Design and Architecture
Luxury homebuyers in the greater Naples area will be pleased with the new luxury condo design by Garcia Stromberg at The Island at West Bay. The award-winning architectural firm has created a central core building designed to maximize the panoramic views from every residence. From environmental-sensitive land planning to distinctive amenities, these new condominiums represent the cutting edge in livability, design, and architectural innovations. Instrumental inspiration for the team — a renewed focus on outdoor living and an appreciation for evening sunsets over the Gulf of Mexico. At The Island at West Bay, a rooftop amenity deck with pool and fitness area creates the perfect sanctuary with a bird's eye view of the Gulf of Mexico and Estero Bay. In the residences, wider terraces with summer kitchens, expansive walls of glass, and premium interior finishes deliver an enviable address for those seeking a carefree, pampered Florida lifestyle.
Calusa Pines Developer Creates "Wow" Factor at West Bay Club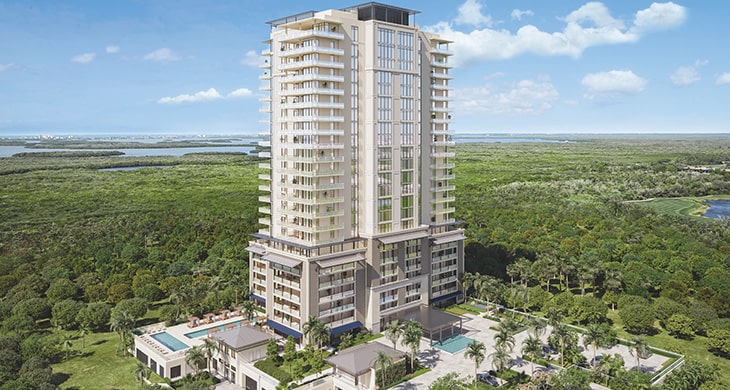 At the forefront of condominium innovation in Southwest Florida, developer Gary Chesnoff has made it his mission to set a new standard of excellence with his newest community, The Island at West Bay. Surrounded by an unprecedented roster of amenities and top-of-the-line features, The Island will be the first new condominium tower in Estero in over a decade, and the final neighborhood to be developed within the master-planned, gated community of West Bay Club.
Chesnoff's vision to take condominium living to the next level is in keeping with his track record of excellence as the developer of Calusa Pines, a pristine private golf club widely recognized as one of the top three in Florida. Chesnoff commissioned Garcia Stromberg to take the lead on architectural design. "Chesnoff is well-known for challenging conventions throughout Southwest Florida," said Jorge Garcia. "His extreme attention to design and detail has led to one of the most stunning golf courses in the state at Calusa Pines. We look forward to bringing Gary's vision to life at The Island."
With over 25 years of experience in residential development, the Garcia Stromberg team has led the way in innovative designs throughout Florida's East Coast. Now, they have joined forces with Chesnoff's team to create their first community in the Southwest Florida region. Designed to create a "wow" factor with every portion of its design, The Island surpasses expectations with an array of innovative and luxurious residence features, a high level of personal service, and an unmatched collection of resort-style amenities.
Estero and Bonita Springs Take Center Stage
Ideally located just 20 minutes from the Southwest Florida Regional Airport, the desire for Bonita Springs and Estero has steadily increased throughout the years. In addition to its beautiful beaches and natural surroundings, the area offers a plethora of dining, shopping, and entertainment. The 24-story tower of The Island at West Bay will feature 86 luxurious three- to four-bedroom residences, each indulging in spectacular Gulf of Mexico views and exquisite designer touches.
Along with the rooftop amenity deck, a wide array of signature amenities will create inviting social spaces and provide services that elevate everyday experiences into meaningful moments. A dramatic porte-cochere entrance and an exemplary on-site staff ensure a memorable arrival experience. The ground-level amenities include a Resident Club Room, a heated lap pool, a state-of-the-art Fitness Center, private guest suites, refrigerated storage for deliveries, a Kid's Club Room, and an indoor golf simulator.
To request an e-brochure featuring the renderings and floorplans for The Island at West Bay, register your interest at IslandWestBay.com. Contact West Bay Realty at 239-948-9009 to schedule a private tour of West Bay's exceptional amenities and a private presentation with the on-site Sales team.
REQUEST E-BROCHURE